The Wyckoff trading method is a sort of market technical analysis pioneered by Richard Wyckoff in the 1930s. The approach was developed to provide retail traders with the edge they needed to locate solid investments, entry and exit opportunities, and comprehend the story behind price trends. This trading approach is still regarded as a reliable method of reading the market and making trading decisions.
What is the Wyckoff Trading Method?
The Wyckoff trading approach teaches investors how to evaluate price movements and grasp what the major institutional market participants are doing and intend to accomplish. It then teaches them how to think and behave like them. Finally, in theory, retail traders can become highly successful investors provided they understand the market, the institutional participants, and the story behind the price fluctuations.
Who is Richard Wyckoff?
Richard Wyckoff was a hugely successful stock market trader. He had spent decades researching the stock market. During his stock market observation and analysis, he noticed patterns and immutable laws that, if understood, would allow investors to become successful traders and avoid market traps.
Wyckoff's trading method was the subject of studies and a book. He also conducted workshops, gave seminars, and partnered with other men of his generation to teach retail traders how to trade the market.
Why did Wyckoff create the Wyckoff Method?
Wyckoff's trading strategy was his response to the challenges that afflicted retail traders in his day and continue to trouble retail traders now. Wyckoff observed massive institutional traders manipulating financial markets for their personal gain. He determined that they designed trading techniques that would take advantage of the common retail trader's naiveté, inexperience, and concerns while gaining enormous money for themselves. Wyckoff argued this was unjust, and that retail traders required a competitive advantage over larger, more organized, and better capitalized institutional dealers.
To that goal, Wyckoff compiled a set of market trading courses that became known as his trading method. The purpose of the classes was to teach retail traders how to think like big traders and how to build trading plans based on clear market moves. With this knowledge, retail traders could forecast the future activities of market movers (i.e., market manipulators) and position themselves to profit from the market movers' actions.
Wyckoff's final answer was the Composite Man. The Composite Man is a fictitious character who thinks and acts like large institutional investors. Retail traders might comprehend things from the perspective of market movers and know how to respond in order to minimize market losses and greatly boost their market gains by looking through his eyes and experiencing the financial markets from his vantage point.
How did Wyckoff develop the Wyckoff Method?
Wyckoff meticulously analyzed the market behavior of various equities, price changes, and market behavior throughout various time periods. His research found that the market has three unchanging features and that stocks always follow a definite market cycle. If retail traders allowed for understandable variances in stock performance, they would notice that they all followed the same pattern, according to his idea. Retail investors will have an advantage over other retail traders and institutional traders if they learn the pattern and how to detect it under changing market situations.
Stock Market
The financial markets' stocks follow the same pattern. As buyers demand more of the stock and sellers sell it, they build momentum to climb in price. At some time, buyer demand for more stock will be so strong that the stock's price will break over its upper range.
After breaking over its upper limit, the stock price will continue to rise until buyer momentum fades and the pressure to sell the stock takes over. The stock price will peak at this point and then begin to decrease.
As the price decreases, investors, particularly retail investors, get concerned about losing capital gains and begin selling their holdings. The price falls even quicker as more sellers liquidate their shares. This will continue until a big number of buyers enter the market and begin purchasing the shares being sold at low prices.
Buyers will continue to purchase significant quantities of the stock until it regains the momentum required to break over the upper limit of its price range and surge upward towards new price peaks.
Stocks, in short, follow a predictable path of gaining momentum, breaking through their price range, growing in value, losing momentum, falling in value, and then being accumulated again for another accumulation phase. There are certain variations from this pattern (for example, pullbacks, reversals, and consolidation trends), but even these may be adequately forecast if you understand and use the Wyckoff trading strategy correctly.
Trading Ranges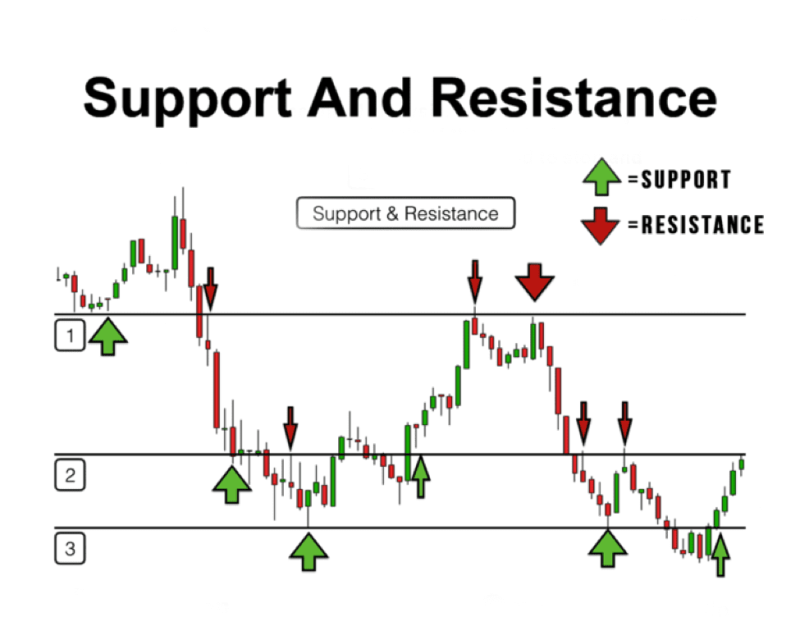 The price highs and lows are represented by the trading range. The stock's market price will fluctuate between the upper and lower price boundaries until it has enough energy to break through the upper or lower price barrier. It creates a new price trend whenever it crosses one of its price limitations. The new price trend tells its own tale about the persisting imbalance of market power and buyer and seller influence.
Wyckoff Market Cycle
While everyone understands that prices will grow and decrease over time, traders must understand when and how they will do so. The Wyckoff approach assists traders in distinguishing between a price moving in a downward trend, a transient price pullback, a temporary consolidation, and a trend reversal. Practitioners of this strategy learn to examine the trade volume, price action, or price fluctuations preceding the present market moves. When these cycles are understood, retail traders can benefit significantly.
For example, if the price trend is upward, but it loses pace and begins to fall, despite significant trading volume, the price loss is most likely a pullback or consolidation rather than a shift in trend. If it is a consolidation, simply retain your assets because the price will rise again after the consolidation. However, if it's a downturn, you might wish to buy some more stock before the stock price starts its upward trend. Unfortunately, most small traders will think that the price trend has shifted and will begin selling their stock in order to preserve their market profits. The market makers will buy up the stock being sold off by the individual investors, and then watch their gains expand when the stock begins its rise to a new price peak. You will not be one of those traders who sell their holdings before the stock price reaches a new high if you use the Wyckoff method.
Wyckoff's Rules
It is critical to comprehend and adhere to Wyckoff's rules. When assessing the market and making trading decisions, traders should keep six rules in mind.
The market and individual securities never repeat their performance. So, if you notice the market acting similarly to how it has in the past, look for variances that may affect the expected outcome of the price movement. Market and price trends emerge from a plethora of comparable price patterns with an infinite number of variants. Markets and market asset performance vary just enough to perplex and surprise market participants.
The price changes of a stock must be compared to the stock's previous performance. Its current price action can only be comprehended correctly if you know how it has performed in the past (e.g., yesterday, last week, last month, last year).
Price patterns are classified into three types: upward, downward, and flat.
Short-term, intermediate-term, and long-term time frames are available. The tendencies you notice in each time span will differ dramatically.
The 4 Phases of the Wyckoff Market Cycle
Market cycles, according to Wyckoff, comprise four stages: accumulation, distribution, markup, and distribution.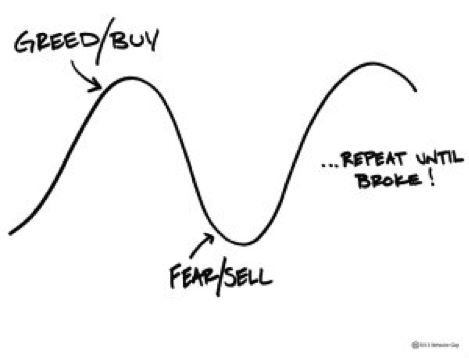 Accumulation Phase
This is the cycle's initial stage. It is caused by the stock's institutional demand. Large amounts of shares are purchased by institutional buyers. These bullish investors are positioning themselves for a rally and building momentum for the price to break through the upper price boundary. The price action on the chart structure remains flat, however there are rising lows. You are in the accumulation phase if you notice increasing lows and flat price activity.
Markup Phase
Buyer demand drives stock prices above the top limit of their price range. Prices are rising, indicating an optimistic trend.
Distribution Phase
Buyer momentum weakens as prices climb, and sellers gain market power. The sellers retake control of the stock at the purchasing peak. Price action becomes flat once more, as it did during the accumulation phase. The existence of lower highs and the failure of higher lows are indicators that this is happening. During this stage, dealers begin to sell their stocks.
Markdown Phase
Stock prices are falling. The bears have gained control and are driving the stock price down. When prices break over the lower distribution phase barrier, it indicates that the markdown phase has begun. Prices will continue to decrease until a selling climax occurs. When there is a selling climax, selling pressure will have decreased to the point that buyer demand will begin to dominate price activity. When the purchasing pressure is strong enough, the selling climax will set the new price low, and the bearish accumulation phase will resume.
Secondary Test: Trading Volume and Price Spread
Each phase transition requires a further test to confirm. The secondary test is trading volume. If a stock's trading volume is high when it transitions from one phase to another, the movement will be powerful and prolonged. If trading volume is dropping or low, the movement may be a spring or false breakout.
Trading with the Wyckoff Method
Traders should be familiar with and comprehend the five steps of the Wyckoff method and the market cycle.
When the price of a stock swings from the accumulation phase to the markup phase or from the distribution phase to the markdown phase, enter a trade.
Place a stop-loss order on the other side of the trading range.
Keep an eye on your stock and exit when the price, volume, or both suggest a phase transition.
Wyckoff Trading Method
Determine the current market trend and its most likely future path. Examine the market's supply and demand dynamics to determine if the price will rise or fall.
Trade equities that are trending in the same direction. Choose stocks that have stronger strength than the market during upswings and less weakness during market downturns.
When purchasing stocks, look for those that are in the accumulation period. These stocks' prices and growth may meet or exceed your price targets. If you are selling stocks, select those that are in the distribution phase. In this case, the value of these stocks is likely to fall, and you should sell them as quickly as possible to avoid losing your market gains.
Determine whether the stock is likely to move. To do so, examine the stock's price and volume, as well as the wider market's activity. Support your market predictions by examining other technical indicators and determining whether their signals confirm your market predictions. If they do not confirm your market projections, go back through the stock and market data again.
Time your market transactions to take advantage of the overall market trend.
Buy the stock if you believe the market trend will reverse and rally.
If you believe stock prices will fall, sell your shares.
Key Takeaways
The Wyckoff trading approach provides a competitive advantage to tiny traders in the stock market. It evens out the playing field by educating traders how to think and trade like large institutional traders. This strategy assists traders in avoiding market traps, avoiding panic selling, locating effective entry and exit positions, and earning significant returns. They must master the Composite Man in addition to mastering the rules, laws, and trading method.
FAQs
Why are the accumulation and distribution phases important?
Accumulation and distribution phases are critical because most small traders seek to enter the market at the start of a bullish trend and then exit before the price drops dramatically. They can enter the market at a cheap price and quit before they lose their market gains if they can recognize the accumulation and distribution stages early.
What are the supply and demand patterns according to Wyckoff?
These patterns allude to pricing behavior observed when buyers and sellers are in an imbalance.
Price decreases when supply surpasses demand.
Price rises when demand exceeds supply.
There is essentially little price fluctuation when demand matches supply.
What is a probable future trend?
A possible future trend is a market trend that is likely but not assured to happen. To determine whether a market trend will become a reality, traders must consider other technical indicators, the stock's prior performance, and influential elements such as trading to be convinced that the future trend will most likely materialize.